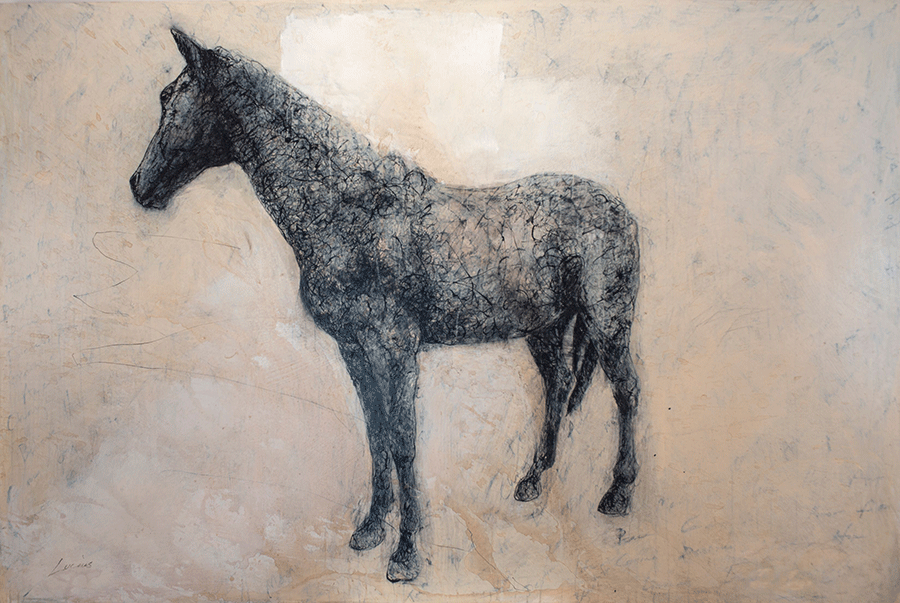 Polo Pony
$20,800.00
"Polo Pony"  original ink on panel painting by Lex Lucius measures 59" tall by 88" wide. Interestingly, Lucius creates most of his work with a rag. Often hidden within the many layers of his paintings are symbols, words and more marks to add a conceptual element to the art. The horses Lucius paints reside at stables close to his studio in Basalt, Colorado.
Positive words of affirmation like "Love" are found throughout the painting. Hidden within this piece is a heart, which Lucius said appeared by accident. It makes us think of the term "Heart Horse." The endearing term refers to finding something akin to your soul mate in a horse. The term was coined by horse lovers. Heart horses have a keen sense of communication with their human and they love each other unconditionally. Navigating through life together is a mix of celebrating accomplishments and supporting each other through tougher times.
For detailed pictures of "Polo Pony" contact us via live chat or email. We will respond very quickly and look forward to helping you with your art collecting. We strive to make it fun and easy to add beautiful art to your home or office.
Lex Lucius' work is available through our fine art galleries located in Breckenridge and Vail, Colorado.