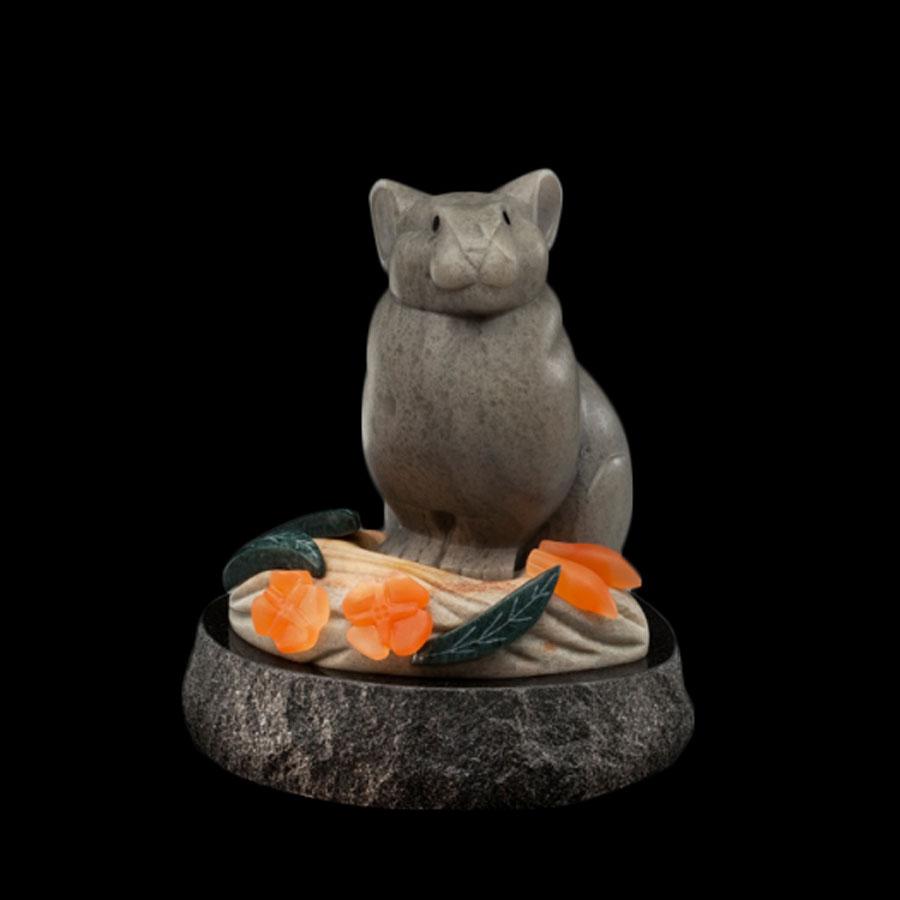 Alpine Harvest
$5,000.00
This sculpture is made of Grey Alabaster, Mongolian Imperial Black Marble, Brown and Green Alabaster, Translucent Orange Alabaster, Verde Guatemala Marble and on Granite base. 10 x 8 1/2 x 8 inches.
From the artist: 
From the Artist:
Meet the pika, small alpine cousin to the rabbit. The pika lives at altitudes in the mountains where the forest gives way to alpine meadows and boulder fields. Spaces around the boulders provide shelter for the pika, to keep him warm in the winter and cool in the summer. This is a very small, very quick animal, about 6 to 8 inches long, with a big voice. Usually one hears the pika's alarm call (which sounds like a dog's squeaky toy) before seeing it, sometimes as just a blur as it races for cover among the boulders.
The pika is a busy harvester of grasses, leaves, and flowers all summer long. It makes up to 100 trips per day carrying foliage to its haystacks among the boulders to dry for winter forage. Many of these plants are poisonous. Here is the really neat part: the poisons in the plants act as a natural preservative and decrease over time as the plants cure. Plants with no poisons are eaten first. The least poisonous plants are ready to eat fairly soon into the winter, and the most poisonous plants have lost their toxins by the end of the winter. Ingenious! I am always amazed at the wonders of the animal world!
"Alpine Harvest" is composed of 3 alabasters from Utah—Gray, Green and Brown, and Translucent Orange; and 2 marbles—Verde Guatemala and Mongolian Imperial Black. The sculpture required a great deal of planning and engineering since all the stones fit together. I wondered at the task of making the haystack, but was encouraged by my friend, Rosetta, who is a fearless and inspiring bronze sculptor. I drew on what I learned from the making of "Take Flight," my first complex multi-stone creation, and ventured once again into the unknown.
I am fascinated by colored stone and creating colors in stone through the use of texture and finish. The most fun was epoxying all the little stones together into a colorful haystack. The blossoms, buds, and leaves are the artist's interpretation in stone of the Fireweed, an alpine wildflower collected by the pika.