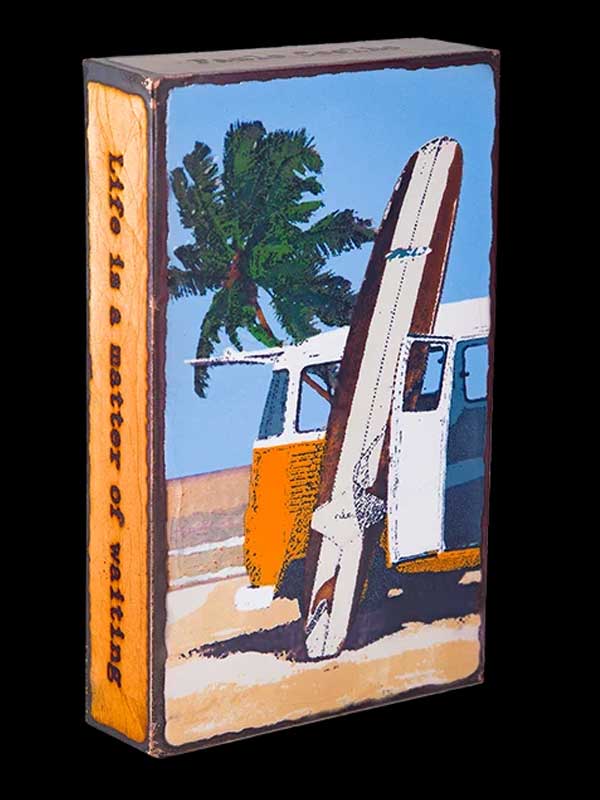 236 - Corduroy
$163.00
Quote on Spiritile: "Life is a matter of waiting for the right moment to act" - Pablo Coelho
The story behind this tile:
"Surfers spend an inordinate amount of time waiting. Not "doing nothing" as waiting around might be considered. They wait watchfully, learning to recognize the signature curves so that when they choose a wave, it isn't a wave yet. It's a swell with all the signs of curling and creating that gorgeous arc of thrill coursing over the shore. Acting in the right moment means the difference between cruising through the tunnel and being swept under by the crest. The stakes can be high, just like in our life. But the thrill remains. When we see the corduroy of swells turning quickly into waves heading our way, we turn our board toward land, and all we need do is enjoy the ride."
Spiritiles are molten glass on copper art collectibles that capture the spirit of the enlightened moment. Handcrafted in the U.S.A., Spiritiles bring luminous imagery to life and share timeless ideas on their golden sides.
Each Spiritile measures 5 ¼" x 8 ½" x 1 ¾" and weighs three pounds. Spiritiles easily wall hang or stand alone. These wonderful artworks will never fade or tarnish and may be enjoyed in sunny or humid spots where other art may not endure.
Free shipping will be applied at checkout! (US addresses only) We typically ship with USPS. If you cannot receive USPS shipments, please note that in the special instructions box.