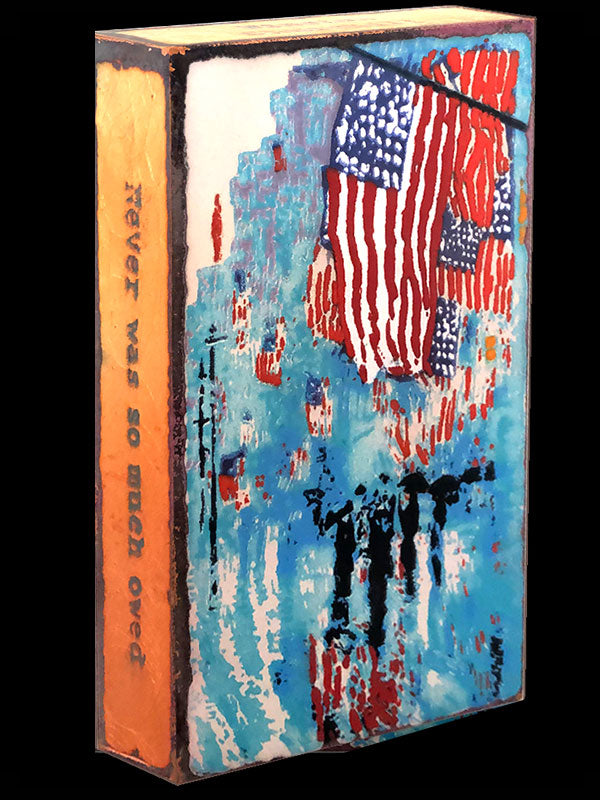 251 - American Heroes
$163.00
Quote on Spiritile: "Never was so much owed by so many to so few" - Winston Churchill
Each "American Heroes" Spiritile purchased from now through Labor Day 2020 will have a special 'thank you' message from Houston sealed on the reverse side. **Only those "American Heroes" Spiritiles purchased during this time period will have the message. 
The story behind this tile:
This piece is a somewhat modern yet timeless enameled interpretation of Childe Hassam's 1917 painting "Avenue in the Rain."  The original painting is in the permanent art collection of the White House and has graced the Oval Office over several recent presidencies.  It is one of my favorite patriotic pieces ever created.

The piece embraces the strength of national unity.  The water hints at ominous challenges, while American Heroes stand guard over those who are forced to shelter down under cover from the metaphorical storm.  The flags proudly protect us & bring us back together to overcome the obstacles thrown in our path by elements beyond our control.

And what better story to put with it than that of a man who recognized & was eternally grateful for the sacrifices frontline Americans made for humanity?  I doubt either Mr. Hassam or Mr. Churchill would mind me spinning my own creative style by smashing them together, a bit out of context, and into something new.  Ingenuity is, after all, the American way!

I call this piece "American Heroes."  It is dedicated to ALL American Heroes.  From front line workers to our veterans, our doctors and nurses and our fearless leaders... the world owes you a debt that can never be repaid.  We are eternally grateful for your sacrifices.  

To honor those who continue to serve and to further their legacy, we are donating a portion of the proceeds from each American Heroes Spiritile sold from now until Labor Day, to the Gary Sinise Foundation. During this public health crisis the Gary Sinise Foundation Emergency COVID-19 Combat Service is providing grants to first responders in need of personal protective equipment, financial assistance to healthcare professionals, service members, veterans, first responders, and their families who have been impacted. 

Thank you for your continued support and God Bless America!
-Houston
Spiritiles are molten glass on copper art collectibles that capture the spirit of the enlightened moment. Handcrafted in the U.S.A., Spiritiles bring luminous imagery to life and share timeless ideas on their golden sides.

Each Spiritile measures 5 ¼" x 8 ½" x 1 ¾" and weighs three pounds. Spiritiles easily wall hang or stand alone. These wonderful artworks will never fade or tarnish.
Free shipping will be applied at checkout! (US addresses only) We typically ship with USPS. If you cannot receive USPS shipments, please note that in the special instructions box.