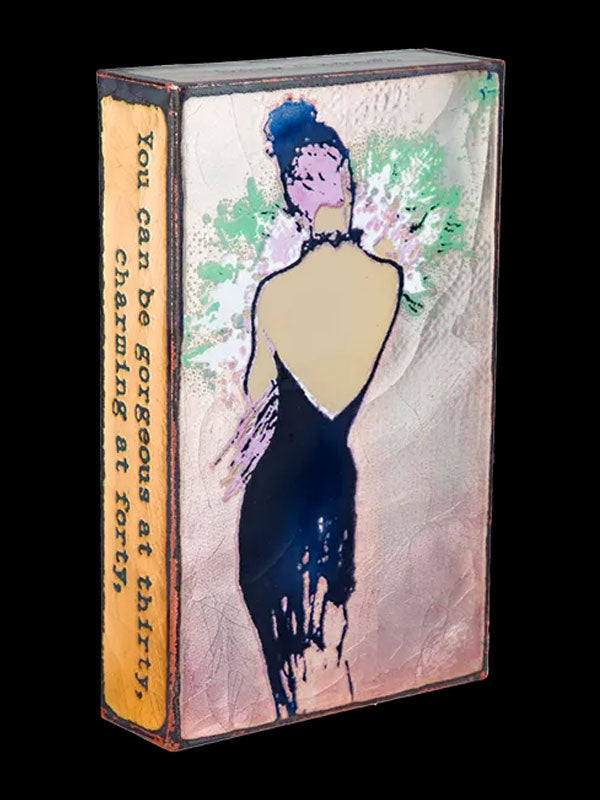 161 - Timeless
$163.00
Quote on Spiritile: "You can be gorgeous at thirty, charming at forty, and irresistible for the rest of your life." -Coco Chanel 
The story behind this tile:
"Style arbiter Gabrielle Chanel, or Coco, made the world more beautiful with her iconic fashion designs. Born into poverty, she lost her mother as a young child and was sent to live in an orphanage. Committed to self-invention, she famously said, "My life didn't please me, so I created my life." Her timeless aesthetic that "luxury must be comfortable, otherwise it is not luxury" revolutionized fashion with her iconic suits and the simple elegance of the "Little Black Dress." This is a fashionable reminder that no matter what age we are, we are beautiful and therefore, timeless."
Spiritiles are molten glass on copper art collectibles that capture the spirit of the enlightened moment. Handcrafted in the U.S.A., Spiritiles bring luminous imagery to life and share timeless ideas on their golden sides.
Each Spiritile measures 5 ¼" x 8 ½" x 1 ¾" and weighs three pounds. Spiritiles easily wall hang or stand alone. These wonderful artworks will never fade or tarnish and may be enjoyed in sunny or humid spots where other art may not endure.
Free shipping will be applied at checkout! (US addresses only) We typically ship with USPS. If you cannot receive USPS shipments, please note that in the special instructions box.