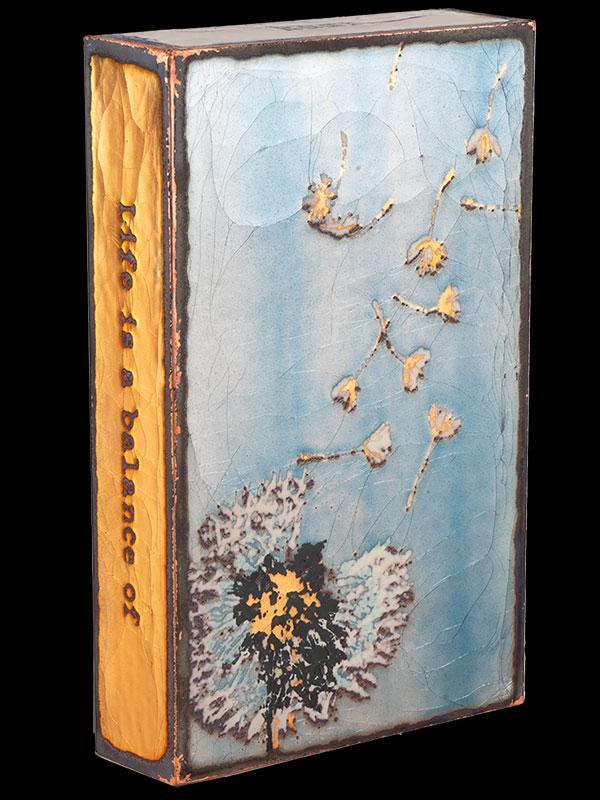 246 - Fair Winds
$163.00
Quote on Spiritile: "Life is a balance of holding on and letting go." - Rumi
Spiritiles are molten glass on copper art collectibles that capture the spirit of the enlightened moment. Handcrafted in the U.S.A., Spiritiles bring luminous imagery to life and share timeless ideas on their golden sides.

The story behind this tile:
"Inevitably, at some point in our lives, situations and circumstances are out of our control. The forces of nature direct the course of events beyond our forecasts, and we are surprised by the unexpected. This is true in every aspect of our lives - in our parenting, our friendships, our work, our travels, and within ourselves. This quote by Rumi is beautifully shown through the dandelion, which holds onto its seeds until it is time to release control, and hope for fair winds to carry its creations to fertile soil." - Houston Llew
Each Spiritile measures 5 ¼" x 8 ½" x 1 ¾" and weighs three pounds. Spiritiles easily wall hang or stand alone. These wonderful artworks will never fade or tarnish.
Free shipping will be applied at checkout! (US addresses only) We typically ship with USPS. If you cannot receive USPS shipments, please note that in the special instructions box.