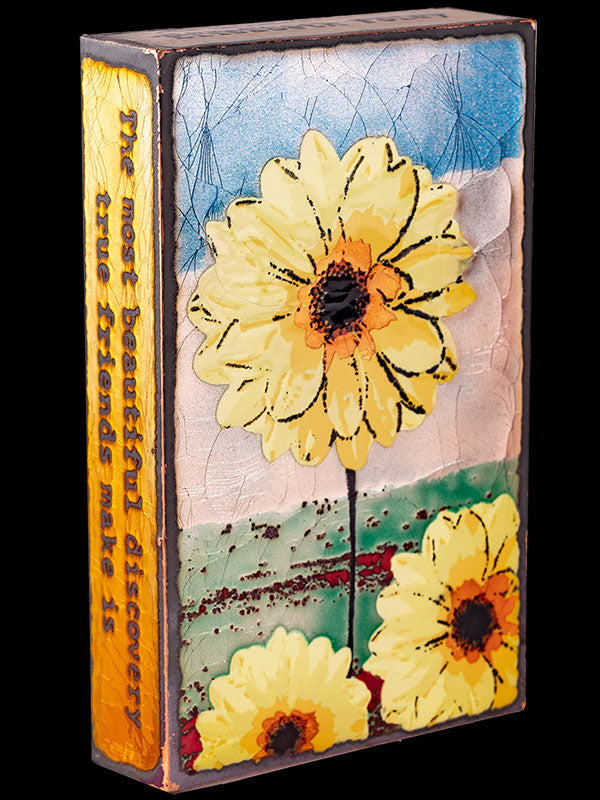 248 - Nurture
$163.00
Quote on Spiritile: "The most beautiful discovery true friends make is that they can grow separately without growing apart." Elisabeth Foley
The story behind this tile:
"Imagine your friends as a bountiful garden of flowers. Some are annuals - the ones that pop up for a season with a brilliant blast of color and perhaps scatter seeds for a season to come. And some friends are perennials - ones that return time after time to adorn your life with beauty. These friends come back to your garden year after year, each time blooming more full and vibrant than before. These perennial friends you want to keep around no matter how far afield in your garden they go. So you work to nurture those budding relationships through the water of attention, the cultivation of care, and maybe some fertilizer of fun experiences together now and then. Over time their roots go deeper and even more magnificent blossoms burst forth. As these perennial friendships grow stronger, they gain a special place in your garden and your heart. From that kind of friend, you will never grow apart. " - Houston Llew
Each Spiritile measures 5 ¼" x 8 ½" x 1 ¾" and weighs three pounds. Spiritiles easily wall hang or stand alone. These wonderful artworks will never fade or tarnish.
Free shipping will be applied at checkout! (US addresses only) We typically ship with USPS. If you cannot receive USPS shipments, please note that in the special instructions box.