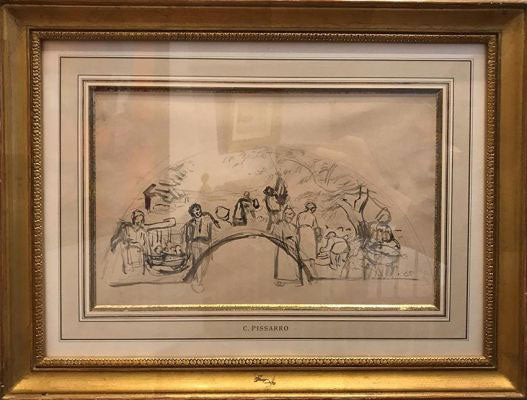 La Cuille
Please Call for Pricing
"La Cuille" original pencil sketch measures 16 inches tall by 21 inches wide.
"La Cuille", translated from French as "The Fan", is a sketch made by world-renowned artist, Camille Pissarro, for one of his characteristic fan paintings.
Prior to the 1860's in France, art focused heavily on realism, striving to represent people and places as accurately as possible. It was considered highly radical to paint in a different style and when artists such as Camille Pissarro, Claude Monet, Edgar Degas, and others started painting in the style that later became known as Impressionism, it put the entire French art community into an uproar.
 Unlike Realism, Impressionism seeks only to capture the feelings and most essential features of a place. In the beginning, Impressionist painters would typically only paint landscapes; however around 1880, Camille Pissarro began to feel that his paintings were lacking something essential, so he started painting people in his landscapes. Often painting people in market scenes, Pissarro was able to add different emotions and social themes into his work that would not have been possible through the use of a simple landscape. Pissarro also had a slight disdain for the upper classes of France and therefore often sought to capture the beauty of working class peasants in his market scenes.

During this period in France, elaborate painted fans were often used by women and were a part of the fashion of the time. Broke and looking for a way to make money, Pissarro began painting and selling silk fans that were painted using gouache. Some of these fans were framed and others were used daily. Prior to actually painting these beautiful fans, Pissarro would make a sketch to test the composition and the postures of the figures in his paintings. "La Cuille" is an original sketch made by Pissarro for one of such fans and it shows the thought process and planning that went into the final piece. It is also historically significant, because it shows his transition from painting simple landscapes to painting more figurative works of art. His finished fans are now extremely rare and sell for hundreds of thousands of dollars. Besides his fan paintings, Pissarro has created many other highly sought after works of art with his "Le boulevard Montmartre, matinée de printemps (1897)" notably selling for $32,092,777 at Sotheby's London on February 5, 2014.
This original Camille Pissarro sketch is currently on display in our Breckenridge south Fine Art Gallery.