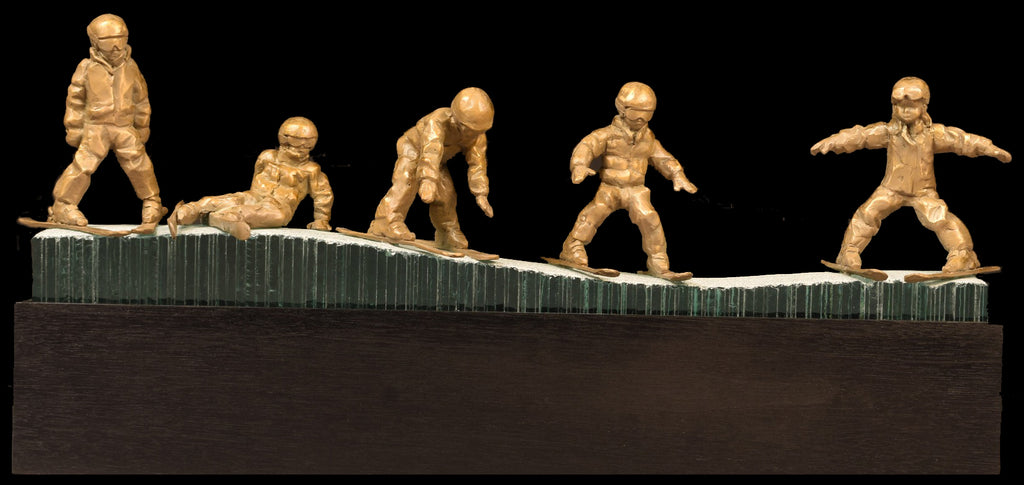 Ski School II
$5,000.00
"Ski School II" by artist Clay Enoch measures 11" Tall by 24" Wide by 5" Deep.
"Ski School II" is the second sculpture Enoch has created depicting the joy and struggle experienced when first learning to ski. The pieces progresses beautifully from left to right. On the left, the child has crossed their tips. Next, they've fallen down as a result. The third progression in the sculpture shows them having just stood up, followed by a bit more sure footedness. On the right, its a perfect wedge. One can interpret the sculpture as a group of children learning together or one child moving through the steps of learning how to ski. The piece is created with bronze for the skiers, glass for the snow and wood for the base.
For detailed pictures of "Ski School II" contact us via live chat or email with the blue button on the bottom right corner.  We will respond very quickly and look forward to helping you with your art collecting. We strive to make it fun and easy to add beautiful art to your home or office.  Use the live chat to confirm which gallery this painting is currently hanging in.
Clay Enoch's bronze sculptures are available through Raitman Art Galleries located in Breckenridge and Vail, Colorado.