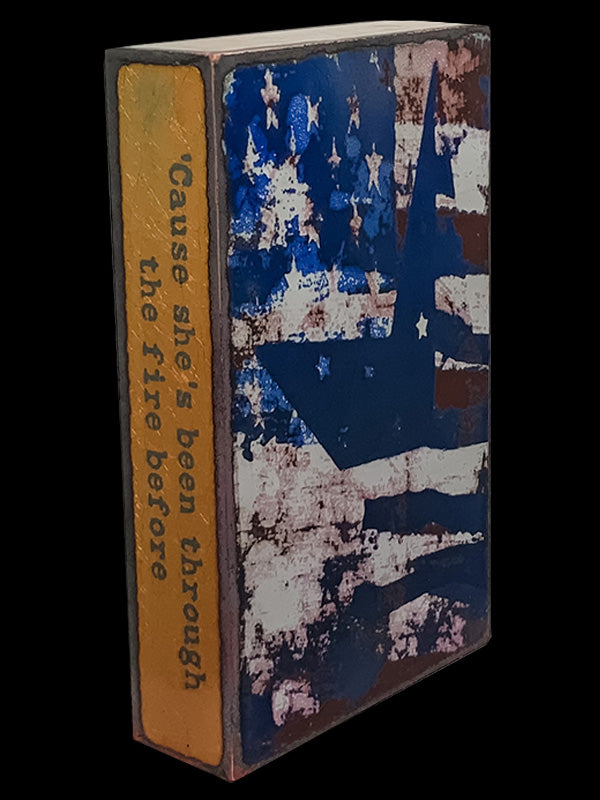 268 - Ragged
$295.00
Quote on Spiritile: " 'cause she's been through the fire before And I believe she can take a whole lot more" -Johnny Cash
Houston is proud to release a Limited Edition Spiritile that will be available from Memorial Day until Labor Day 2022. 
From the artist:
"You see, we got a little hole in that flag there

When Washington took it across the Delaware

And it got powder-burned the night Francis Scott Key

Sat watching it writing say can you see

 

And she's getting threadbare and wearing thin

But she's in good shape for the shape she's in '

Cause she's been through the fire before

And I believe she can take a whole lot more

'Cause I'm mighty proud of that ragged old flag"

These lyrics are excerpted from Johnny Cash's 'Ragged Old Flag'. They speak in so many ways of America's resiliency, strength, pride, determination and honor.

This Spiritile speaks to the 'She goes where she is asked' saying. We should serve our Country with pride and celebrate the men and women who fight for our freedom on the front lines every day.

With so much question in the world these last few years our flag is a reminder that through the bombs bursting in air to the foreign lands where the Stars and Stripes have flown high over our troops one thing has remained constant: In God we trust.

Spiritiles have and always will be American Made and American sourced. We love our country and we are proud of where we come from! One Nation under God, indivisible, with liberty and justice for all.
Spiritiles are molten glass on copper art collectibles that capture the spirit of the enlightened moment. Handcrafted in the U.S.A., Spiritiles bring luminous imagery to life and share timeless ideas on their golden sides.

Each Spiritile measures 5 ¼" x 8 ½" x 1 ¾" and weighs three pounds. Spiritiles easily wall hang or stand-alone. These wonderful artworks will never fade or tarnish and may be enjoyed in sunny or humid spots where other art may not endure.
Free shipping will be applied at checkout! (US addresses only) We typically ship with USPS. If you cannot receive USPS shipments, please note that in the special instructions box.