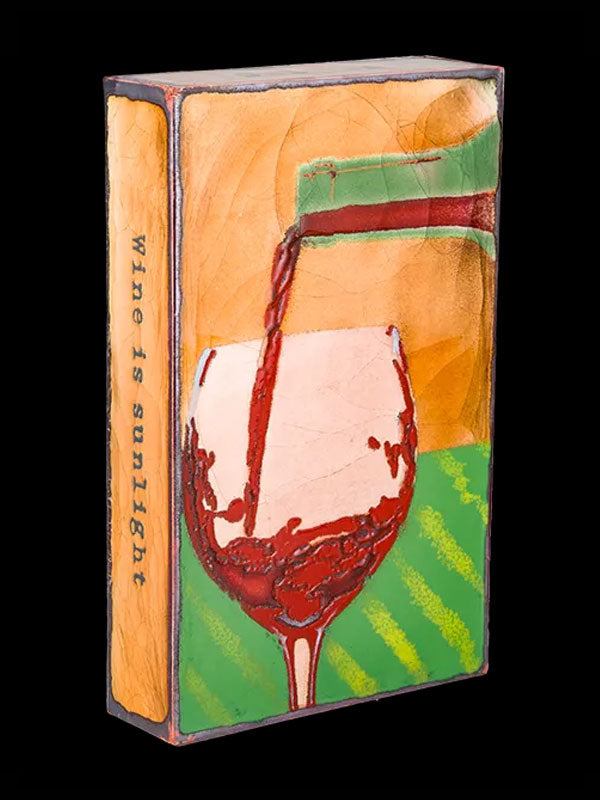 011 - Liquid Sunshine
$395.00
Quote on Spiritile: "Wine is sunlight held together by water." - Galileo
The story behind this tile:
"Evoking the luscious golden countryside of Galileo's Italy, this piece draws us back to the earth, to the fruits of the arid soil, covered in sun. From toil and struggle, beauty and delightful taste abound in a cherry red sip of heaven."

Spiritiles are molten glass on copper art collectibles that capture the spirit of the enlightened moment. Handcrafted in the U.S.A., Spiritiles bring luminous imagery to life and share timeless ideas on their golden sides.
Each Spiritile measures 5 ¼" x 8 ½" x 1 ¾" and weighs three pounds. Spiritiles easily wall hang or stand alone. These wonderful artworks will never fade or tarnish and may be enjoyed in sunny or humid spots where other art may not endure.
If you do not have a gallery code, use tileship as your discount code at checkout for free shipping. Only one discount code can be applied to an order. If you do have a gallery code, it has increased in price by $10 due to increases in production costs.