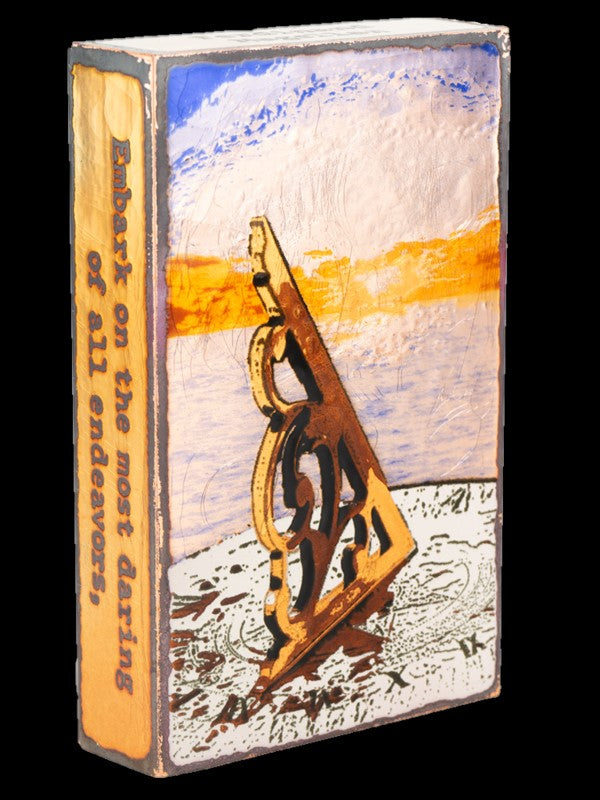 013 - TARDIS v4
$250.00
Quote on Spiritile: "Embark on the most daring of all endeavors, Meet the future without fear and conquer the unknown." Ferdinand Magellan
The story behind this tile:
"First there was TARDIS v1 that in 2013 appeared overnight, as if by magic. Then in 2014, it changed - a new time, a new color, a new author - and became TARDIS v2. In March of 2016, TARDIS transformed once again into its newest form. TARDIS v3 was a call to make the most of our time now, and know that now is the best time to make all the things we want to do in life happen. What other time are we promised?"
This is the fourth version of TARDIS.
The TARDIS Spiritile - a piece that refuses to follow the rules. It bends time and space to transform its design at will. In 1521, Ferdinand Magellan sailed around the world, chasing the sun each day on his quest into the uncharted horizon. This TARDIS v4 challenges us to take that plunge, to embark upon a fearless new adventure -
the most daring of all our endeavors - and follow the sun into our future to conquer the unknown.
Spiritiles are molten glass on copper art collectibles that capture the spirit of the enlightened moment. Handcrafted in the U.S.A., Spiritiles bring luminous imagery to life and share timeless ideas on their golden sides.
Each Spiritile measures 5 ¼" x 8 ½" x 1 ¾" and weighs three pounds. Spiritiles easily wall hang or stand alone. These wonderful artworks will never fade or tarnish and may be enjoyed in sunny or humid spots where other art may not endure.
Free shipping will be applied at checkout! (US addresses only) We typically ship with USPS. If you cannot receive USPS shipments, please note that in the special instructions box.