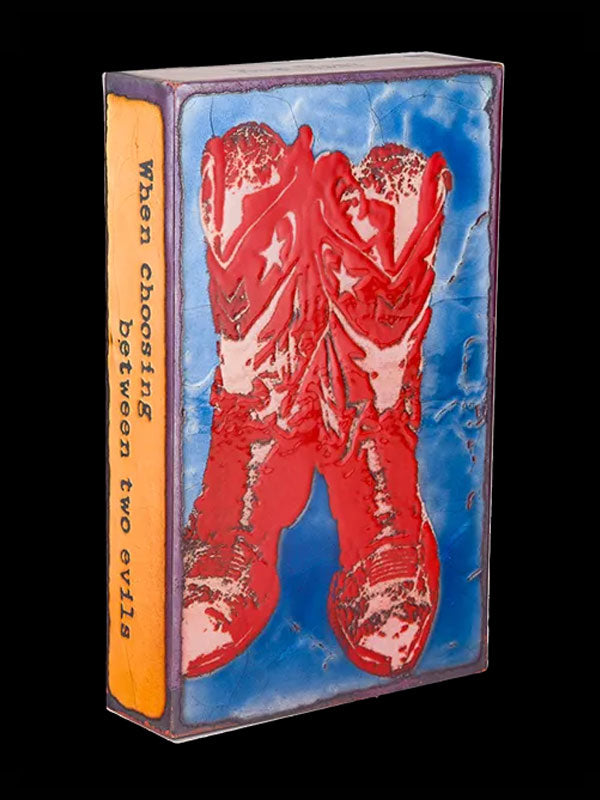 028 - Walk On
$395.00
Quote on Spiritile: "When choosing between two evils, I always try the one I've never tried before." - Mae West
The story behind this tile:
"This quote has always caught me. The idea that when you walk into an unknown situation, you can choose the path of what you know and what you've tried before, or you can stick your neck out there and give the uncertain a whirl. It has always reminded me of this wild west and frontier mentality. Imagine you're a settler in the east, and someone tells you, "Oh, well you can struggle through another cold winter in Pennsylvania with the folks, or you can set out on the rugged terrain to see the beauties of the west. You might die of typhoid fever, but the views are great." We as humans are explorers, not letting the unknown out there hold us back from making it known, whatever may come our way."
The retirement date of this piece is July 1st, 2017.
Spiritiles are molten glass on copper art collectibles that capture the spirit of the enlightened moment. Handcrafted in the U.S.A., Spiritiles bring luminous imagery to life and share timeless ideas on their golden sides.
Each Spiritile measures 5 ¼" x 8 ½" x 1 ¾" and weighs three pounds. Spiritiles easily wall hang or stand alone. These wonderful artworks will never fade or tarnish and may be enjoyed in sunny or humid spots where other art may not endure.
Free shipping will be applied at checkout! (US addresses only) We typically ship with USPS. If you cannot receive USPS shipments, please note that in the special instructions box.