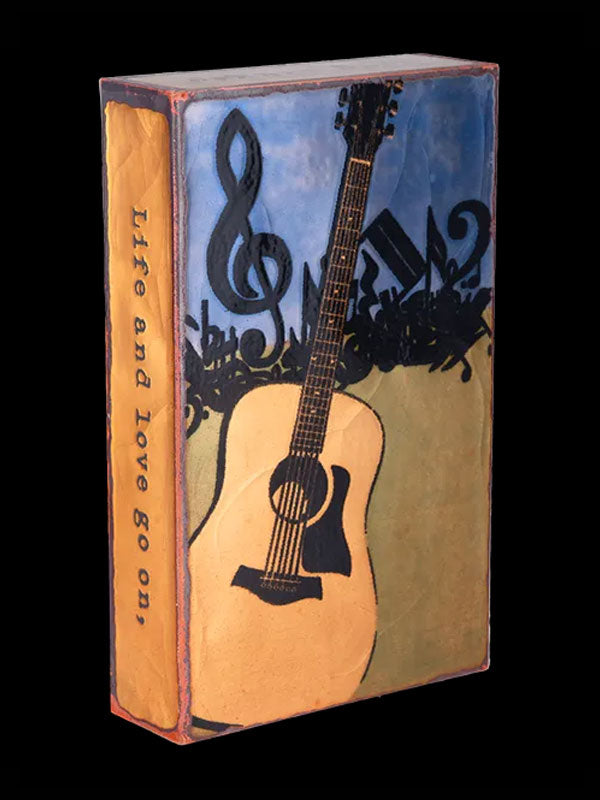 030 - In Tune
$250.00
Quote on Spiritile: "Life and love go on, let the music play." -Johnny Cash

The story behind this tile:
"As one of the iconic American musicians of the 20th century, it's not hard to say Johnny Cash had an inexorable affect on the trajectory of songwriting and performance. His openness with what wasn't shiny in life, frankness with what wasn't polished helped shift the subjects in popular music of the time. When others sang in major concert halls, he went to San Quentin and made a difference in the lives of the downtrodden. He told them yes, life can be challenging, but love keeps going, so you keep playing."
Spiritiles are molten glass on copper art collectibles that capture the spirit of the enlightened moment. Handcrafted in the U.S.A., Spiritiles bring luminous imagery to life and share timeless ideas on their golden sides.
Each Spiritile measures 5 ¼" x 8 ½" x 1 ¾" and weighs three pounds. Spiritiles easily wall hang or stand alone. These wonderful artworks will never fade or tarnish and may be enjoyed in sunny or humid spots where other art may not endure.
Free shipping will be applied at checkout! (US addresses only) We typically ship with USPS. If you cannot receive USPS shipments, please note that in the special instructions box.