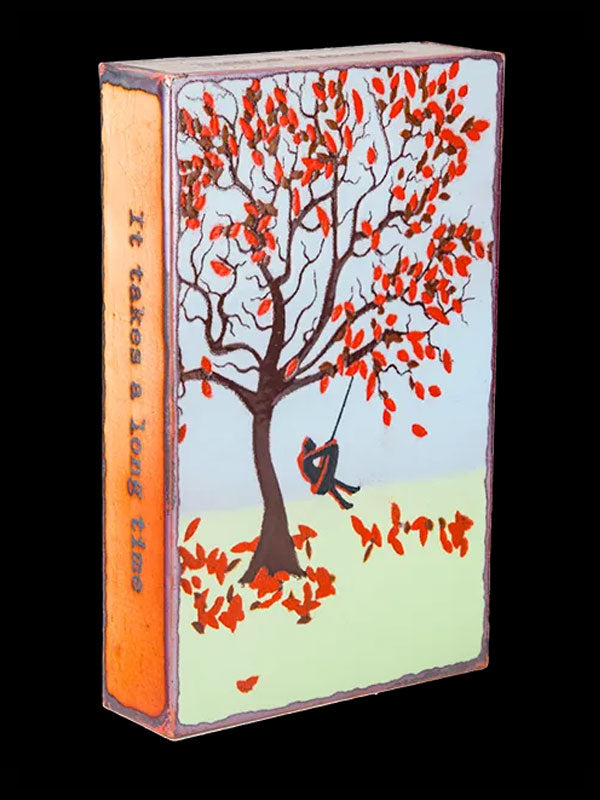 037 - Play Date
$375.00
Quote on Spiritile: "It takes a long time to grow young." -Pablo Picasso

The story behind the tile
"When you're young, all you want is to be older, respected, in charge of yourself. When you become an adult, you realize you've made a terrible mistake! You don't want to be in charge! Who would want that?! All the responsibility, being in charge means making decisions, dealing with the results and reactions from those choices. It's all very... serious. So it becomes, then, a full circle journey back to seeking youth, letting go of the seriousness of life and realizing that in the end most of the things you thought mattered, didn't, and the little things like a tree swing in the fall make you young no matter your age."
Spiritiles are molten glass on copper art collectibles that capture the spirit of the enlightened moment. Handcrafted in the U.S.A., Spiritiles bring luminous imagery to life and share timeless ideas on their golden sides.
Each Spiritile measures 5 ¼" x 8 ½" x 1 ¾" and weighs three pounds. Spiritiles easily wall hang or stand alone. These wonderful artworks will never fade or tarnish and may be enjoyed in sunny or humid spots where other art may not endure.
Free shipping will be applied at checkout! (US addresses only) We typically ship with USPS. If you cannot receive USPS shipments, please note that in the special instructions box.