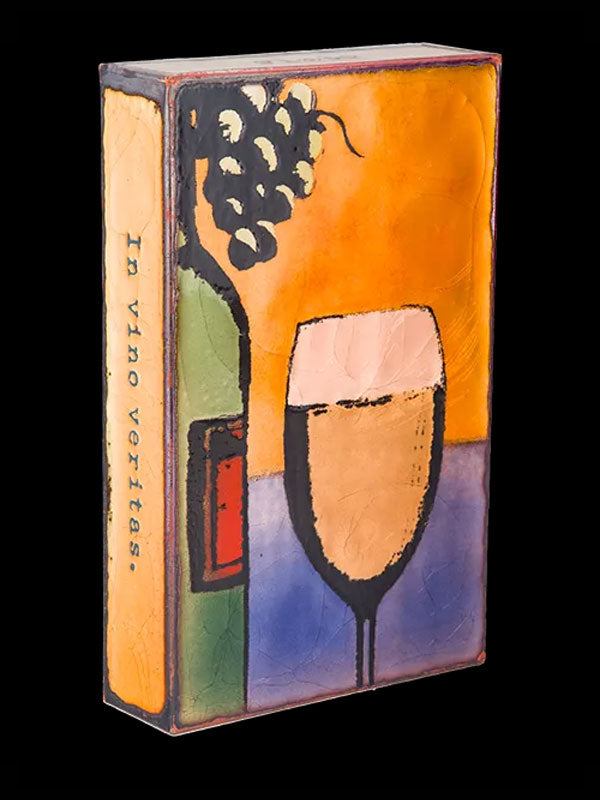 038 - Vino Vitae
$450.00
Quote on Spiritile: "In vino veritas. In wine is truth." -Plato

The story behind this tile
"There's a story from the 18th Century thinkers that goes: One time a good friend and contemporary of Samuel Johnson named John Boswell had drunk too much at dinner, and Johnson berated his friend for the behavior. To defend himself, Boswell used this quip - "In vino veritas" - to which Johnson supposedly retorted, "Why, Sir, that may be an argument for drinking, if you suppose men in general to be liars." While a humorous reply, Johnson's take misses Plato's point, because while it could be said that people are perhaps more honest when in the cups, the quote itself speaks to a deeper understanding co-created through the consumption of wine. So many memories made - and perhaps forgotten! - when wine is poured. Plato's "truth" in wine is a discovered one - inspiration not known before, spurred by the vine."
The retirement date of this piece is July 1st, 2017.
Spiritiles are molten glass on copper art collectibles that capture the spirit of the enlightened moment. Handcrafted in the U.S.A., Spiritiles bring luminous imagery to life and share timeless ideas on their golden sides.
Each Spiritile measures 5 ¼" x 8 ½" x 1 ¾" and weighs three pounds. Spiritiles easily wall hang or stand alone. These wonderful artworks will never fade or tarnish and may be enjoyed in sunny or humid spots where other art may not endure.
Free shipping will be applied at checkout! (US addresses only) We typically ship with USPS. If you cannot receive USPS shipments, please note that in the special instructions box.