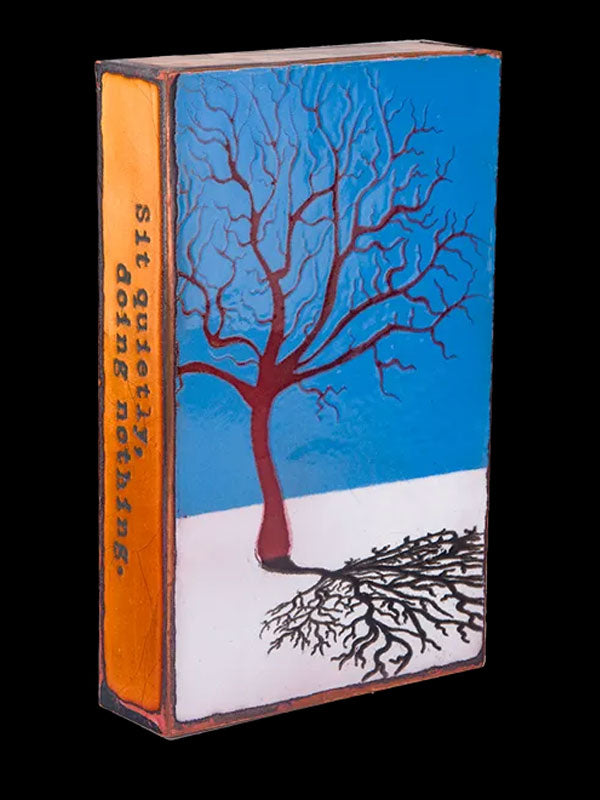 043 - Recess
$550.00
Quote on Spiritile: "Sit quietly doing nothing. Spring comes and the grass grows by itself." -Zen Proverb

The story behind this tile:
"Winter is a beloved time for rest. This comes not as a physical rest as prior cultural systems operated, but as an opportunity to reset. The pressure to get out and do is turned down for awhile, allowing you to hole up in the shop and work through half-finished projects, learn techniques, tinker with a new idea. Winter is a beautiful time to better yourself for yourself, even if that means all you do as the cold blows by outside is sit quietly, doing nothing, in no hurry for Spring at all."
This piece is retired. If you would like to acquire one, please contact us and we can see if we can find one for you! The listed price is a rough estimation.
Spiritiles are molten glass on copper art collectibles that capture the spirit of the enlightened moment. Handcrafted in the U.S.A., Spiritiles bring luminous imagery to life and share timeless ideas on their golden sides.
Free shipping will be applied at checkout! (US addresses only) We typically ship with USPS. If you cannot receive USPS shipments, please note that in the special instructions box.