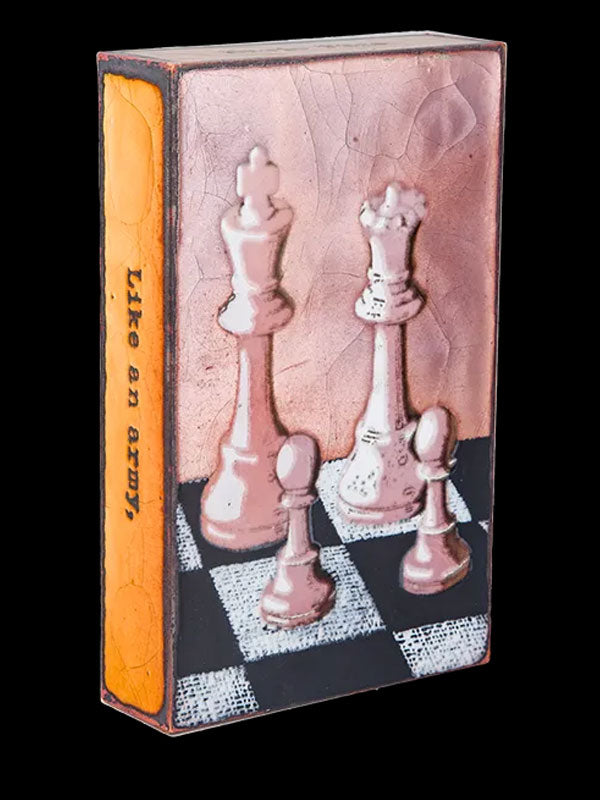 070 - Family Portrait
$650.00
Quote on Spiritile: "The strength of the family, like the strength of the army, is in its loyalty."- Mario Puzo
This piece was retired on July 17, 2012. If you would like to acquire one, please contact us and we can see if we can find one for you! The listed price is a rough estimation.
The story behind this tile:
"I've watched the Godfather movies too many times (and read a few of the books), inspiring the loyal drive behind this chess design. Vito and Michael are always one step ahead."
Spiritiles are molten glass on copper art collectibles that capture the spirit of the enlightened moment. Handcrafted in the U.S.A., Spiritiles bring luminous imagery to life and share timeless ideas on their golden sides.
Each Spiritile measures 5 ¼" x 8 ½" x 1 ¾" and weighs three pounds. Spiritiles easily wall hang or stand alone. These wonderful artworks will never fade or tarnish and may be enjoyed in sunny or humid spots where other art may not endure.
Free shipping will be applied at checkout! (US addresses only) We typically ship with USPS. If you cannot receive USPS shipments, please note that in the special instructions box.