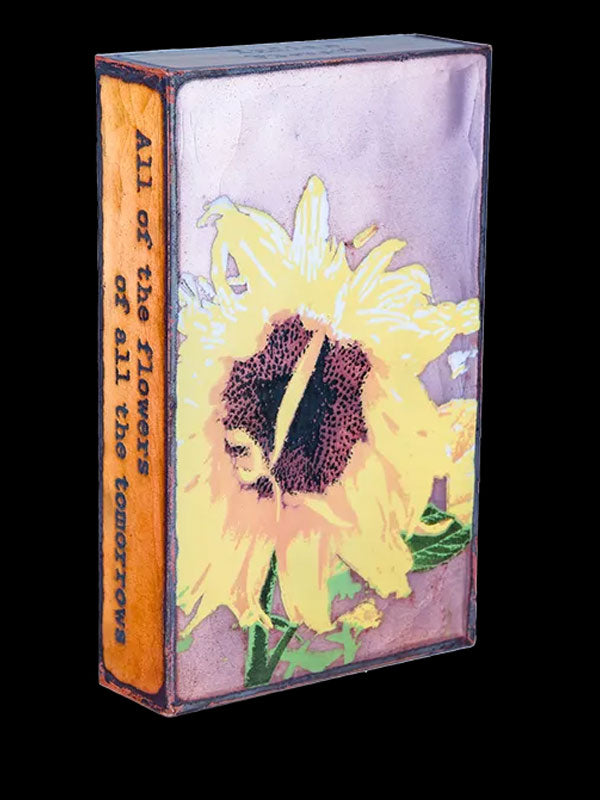 095 - Day to Come
$325.00
Quote on Spiritile: "All of the flowers of all the tomorrows are held in the seeds of today." -Indian Proverb

This piece's retirement date is July 10, 2019.
The story behind this tile:
"Meaning, what we enjoy tomorrow is a result of how we start today, so whatever and however we put our intentions into - study, work, kindness, money - seeds sown mindfully will have joyful results. This ancient Hindu proverb predates written communication, yet the truth of that proverb is all around us and continues in nature. The tall, beautifully radiant sunflower on the tile today started out as a tiny, dull seed. Through time and carefully planting the seed, it has blossomed into the work of art before you."
Spiritiles are molten glass on copper art collectibles that capture the spirit of the enlightened moment. Handcrafted in the U.S.A., Spiritiles bring luminous imagery to life and share timeless ideas on their golden sides.
Each Spiritile measures 5 ¼" x 8 ½" x 1 ¾" and weighs three pounds. Spiritiles easily wall hang or stand alone. These wonderful artworks will never fade or tarnish and may be enjoyed in sunny or humid spots where other art may not endure.
Free shipping will be applied at checkout! (US addresses only) We typically ship with USPS. If you cannot receive USPS shipments, please note that in the special instructions box.