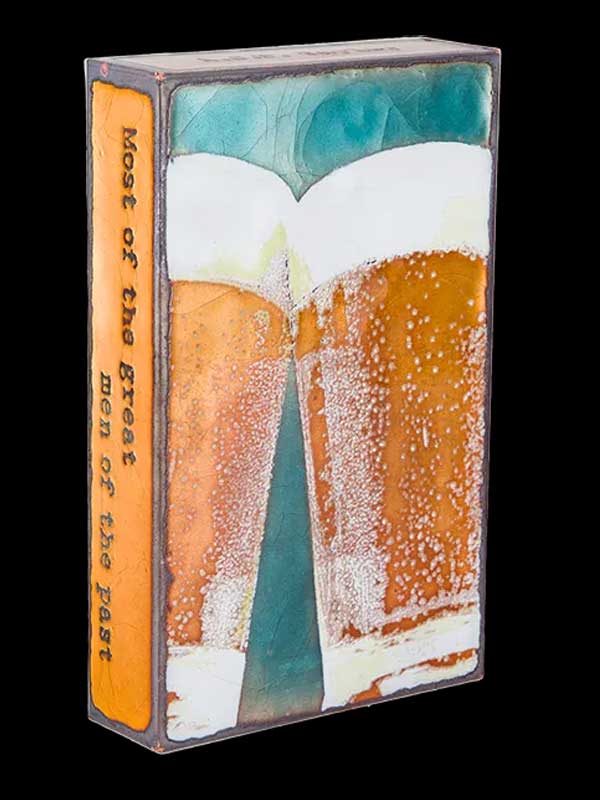 123 - Fine Craft
$650.00
Quote on Spiritile: "Most of the great men of the past were only there for the beer." -A.J.P. Taylor

The retirement date of this piece is January 1st, 2017.
The story behind this tile:
"Dreams are made of this: The cool, tall glass of amber bubbles, reflecting sunlight with a sip and bringing a smile to the lips on the edge of the pint. Stories told over ale, stories made over lager, a drink spanning millennia with every intention of sticking around until the end of time. There's no going back now: beer and its glorious penchant for defining a festive gathering are here to stay."
Spiritiles are molten glass on copper art collectibles that capture the spirit of the enlightened moment. Handcrafted in the U.S.A., Spiritiles bring luminous imagery to life and share timeless ideas on their golden sides.
Each Spiritile measures 5 ¼" x 8 ½" x 1 ¾" and weighs three pounds. Spiritiles easily wall hang or stand alone. These wonderful artworks will never fade or tarnish and may be enjoyed in sunny or humid spots where other art may not endure.
Free shipping will be applied at checkout! (US addresses only) We typically ship with USPS. If you cannot receive USPS shipments, please note that in the special instructions box.