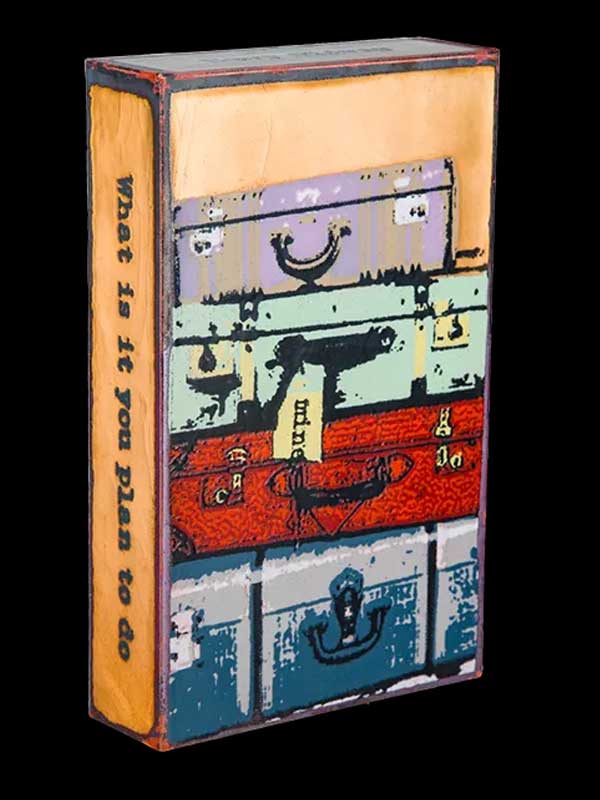 124 - Bon Voyage
$250.00
Quote on Spiritile: "What is it you plan to do with your one wild and precious life?" -Mary Oliver

The story behind this tile:
"When we're young, the world is large, it's open, waiting for us to step in and take up the mantle of its endless possibilities. As we age into adulthood, we unconsciously develop this inverse relationship with the world. We grow, the world and its endless possibilities shrink. Except that isn't the case at all. Age tricks us into seeing only the opportunities in our immediate line of sight. When we realize the trick for what it is, the periphery lights up, the full range of possibilities we felt when we were young comes back into view. What we do then is up to us. — Being curious, staying delighted by the small things, focusing our attention on what really matters — that's how we forge our wild and precious life."
Spiritiles are molten glass on copper art collectibles that capture the spirit of the enlightened moment. Handcrafted in the U.S.A., Spiritiles bring luminous imagery to life and share timeless ideas on their golden sides.
Each Spiritile measures 5 ¼" x 8 ½" x 1 ¾" and weighs three pounds. Spiritiles easily wall hang or stand alone. These wonderful artworks will never fade or tarnish and may be enjoyed in sunny or humid spots where other art may not endure.
Free shipping will be applied at checkout! (US addresses only) We typically ship with USPS. If you cannot receive USPS shipments, please note that in the special instructions box.