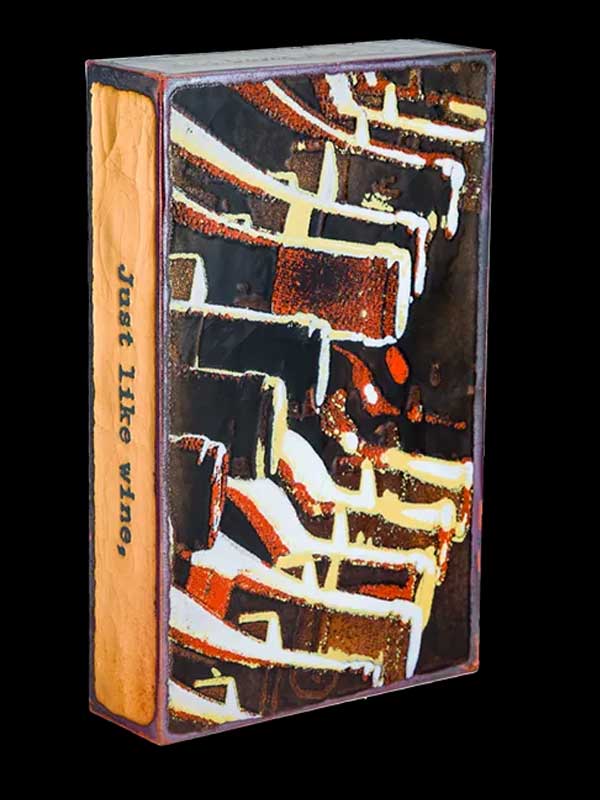 128 - Vintage
$395.00
Quote on Spiritile: "Just like wine, good friends improve with age." -Italian Proverb

The story behind this tile:
"Friendship and wine have been authentic values in the bedrock of Italian culture, especially if they are old. Friends and wine really do get better year after year. This Sicilian proverb bids you to take a good care of your friends the same way a wine producer does with its wine. The reward is something unique and priceless: the company of your old friends, sitting on a table and sipping wine while talking about the old times."
Spiritiles are molten glass on copper art collectibles that capture the spirit of the enlightened moment. Handcrafted in the U.S.A., Spiritiles bring luminous imagery to life and share timeless ideas on their golden sides.
Each Spiritile measures 5 ¼" x 8 ½" x 1 ¾" and weighs three pounds. Spiritiles easily wall hang or stand alone. These wonderful artworks will never fade or tarnish and may be enjoyed in sunny or humid spots where other art may not endure.
Free shipping will be applied at checkout! (US addresses only) We typically ship with USPS. If you cannot receive USPS shipments, please note that in the special instructions box.