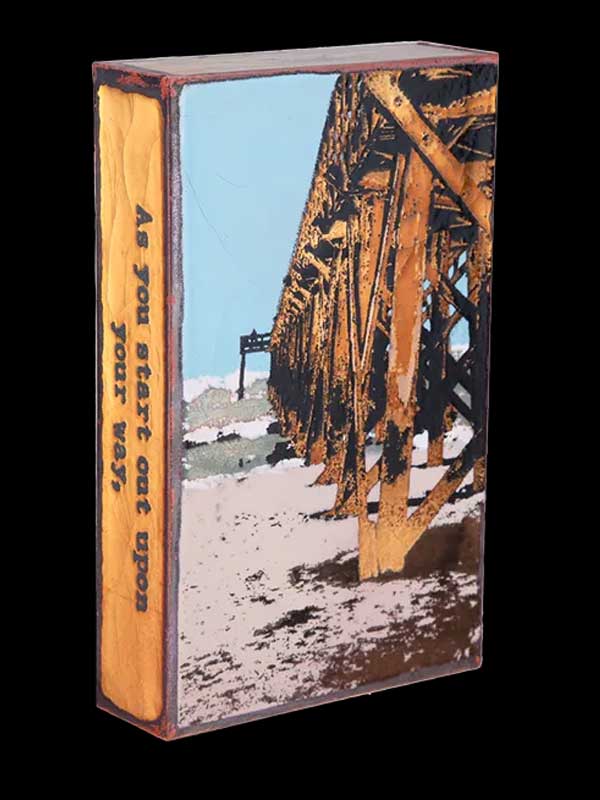 136 - The Way
$395.00
Quote on Spiritile: "As you start out upon your way, the way will appear." - Rumi

The retirement date of this piece is January 1, 2020.
The story behind this tile:
"Rumi reminds us that as you walk towards the direction in which you feel pulled, doors will continue to open. Follow your joy, your heart, your intuition - and the way forward will appear. With its dramatic pier and ocean as metaphoric elements, this tile gently reminds us to have faith in what our heart tells us, a faith as deep as the ocean, and continue pulling towards the direction we are pulled. When Houston designed this tile, he captured this image during a trip with his girlfriend (now wife!) to meet her family. This scene and its story by Rumi marked a pivotal moment in his life as an artist."
Spiritiles are molten glass on copper art collectibles that capture the spirit of the enlightened moment. Handcrafted in the U.S.A., Spiritiles bring luminous imagery to life and share timeless ideas on their golden sides.
Each Spiritile measures 5 ¼" x 8 ½" x 1 ¾" and weighs three pounds. Spiritiles easily wall hang or stand alone. These wonderful artworks will never fade or tarnish and may be enjoyed in sunny or humid spots where other art may not endure.
Free shipping will be applied at checkout! (US addresses only) We typically ship with USPS. If you cannot receive USPS shipments, please note that in the special instructions box.