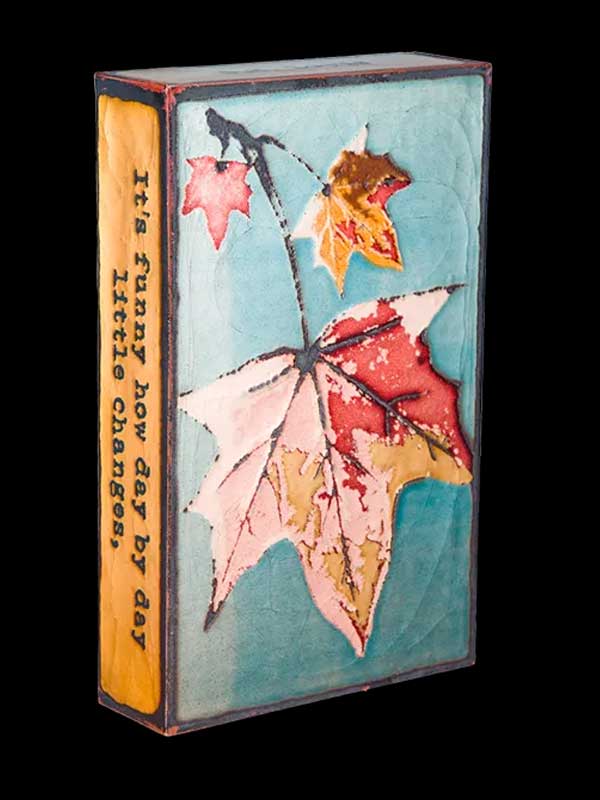 145 - Turning Point
$250.00
Quote on Spiritile: "It's funny how day by day little changes, but looking back, everything is different." -C.S. Lewis

The story behind this tile:
"This is about things moving slowly but relentlessly. A day doesn't seem very long, but micro changes are indeed happening. Each day, a little different. A little bit here, a small change there. Then, suddenly - at a 'turning point' - you notice everything is different. One day you're admiring a row of green trees along the roadside and a week later that same row of trees may look completely different, on fire with the oranges and reds of autumn, seemingly overnight. The rich harvest hues of this tile evoke that same feeling of inevitable change and the passage of time."
Spiritiles are molten glass on copper art collectibles that capture the spirit of the enlightened moment. Handcrafted in the U.S.A., Spiritiles bring luminous imagery to life and share timeless ideas on their golden sides.
Each Spiritile measures 5 ¼" x 8 ½" x 1 ¾" and weighs three pounds. Spiritiles easily wall hang or stand alone. These wonderful artworks will never fade or tarnish and may be enjoyed in sunny or humid spots where other art may not endure.
Free shipping will be applied at checkout! (US addresses only) We typically ship with USPS. If you cannot receive USPS shipments, please note that in the special instructions box.