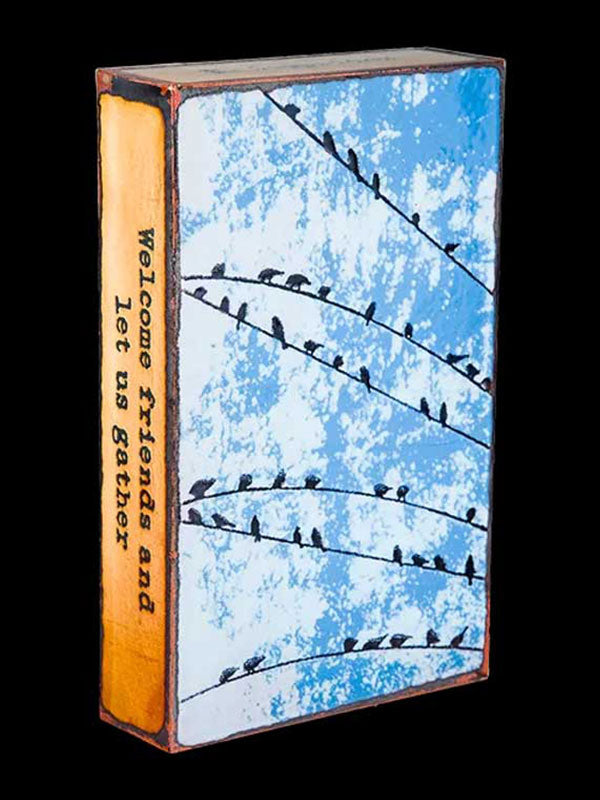 157 - Block Party
$275.00
Quote on Spiritile: "Welcome friends and let us gather, all in search of song, love, and chatter." - H. Cooprider
The story behind this tile:
"I am fascinated by mega congregations of birds at intersections. What are they all doing? A weekly gossip session? Perhaps they're all perched up there cackling at the hoo-mans "stuck in their bi-pedal skeletons with no feathers - think, Betty, NO FEATHERS, can you imagine it, Betty?" Then Betty the Blackbird would say, "I know, Marge, poor squawking mammals! How dare they go out in public?" Or perhaps it's an arena where certain birds are elected to dive bomb for scraps falling from the drive-thru of the local Arby's to see who gets to the fry first. The loudest bird would be nominated the announcer: "This week, Jerry and Theodore will battle in the 7th and Maple Street arena for the first scrap to fall from the Starbucks window." Third option: A neighborhood Nest-Owners Association meeting? "Ok folks, we really need to keep the twig expenditure under budget this year. I know some of you went slap happy with the renovations to your nests, but let's try to keep it to one room per bird per nest, ok?" Whatever they are doing up there, whenever I see birds on wire it reminds me of all the times I get together with friends and loved ones. While we can't fly up and perch on electrical wires for our gatherings, we've got something better: patio grills."
This piece's retirement date is July 10, 2019.
Spiritiles are molten glass on copper art collectibles that capture the spirit of the enlightened moment. Handcrafted in the U.S.A., Spiritiles bring luminous imagery to life and share timeless ideas on their golden sides.
Each Spiritile measures 5 ¼" x 8 ½" x 1 ¾" and weighs three pounds. Spiritiles easily wall hang or stand alone. These wonderful artworks will never fade or tarnish and may be enjoyed in sunny or humid spots where other art may not endure.
Free shipping will be applied at checkout! (US addresses only) We typically ship with USPS. If you cannot receive USPS shipments, please note that in the special instructions box.