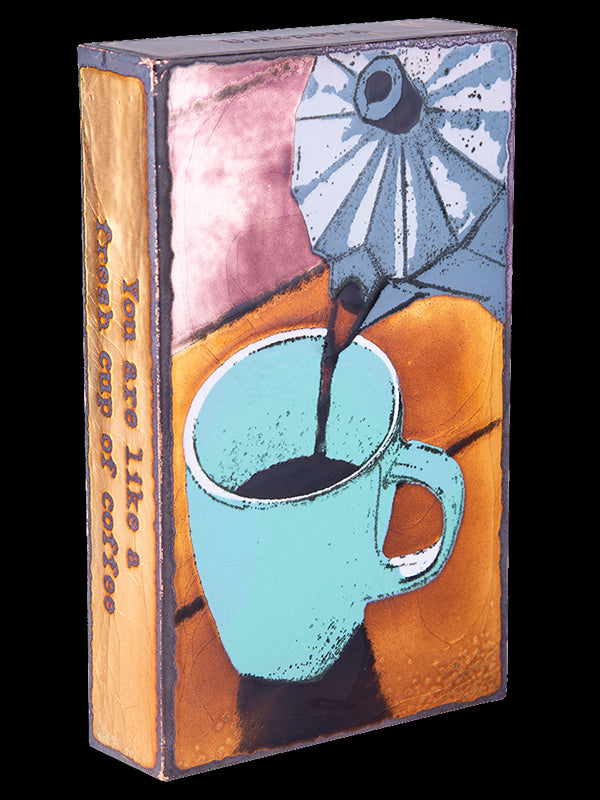 242 - Americano
$250.00
Quote on Spiritile: "You are like a fresh cup of coffee first thing in the morning." - Unknown
The story behind this tile:
"Upon waking, the day opens slowly. We rise out of bed with hazy ideas about our next steps in mind. Stretch, turn on the light, blearily look around, pad out to the kitchen, prepare the morning brew. Wait. Let it steep. Take in the aroma. This first cup of the day is meaningful. It sets the tone for our morning. It can be an experience we rely on to receive the day with delight. Some people in our lives are like this. Spending time with them is a "wake up" and a source of joy. We are rejuvenated by their presence, and grateful for what they bring to our life. Whether it's a friend, a mentor, a sibling, or a partner, they represent that first cup of coffee, spurring us on to greater days."
Spiritiles are molten glass on copper art collectibles that capture the spirit of the enlightened moment. Handcrafted in the U.S.A., Spiritiles bring luminous imagery to life and share timeless ideas on their golden sides.
Each Spiritile measures 5 ¼" x 8 ½" x 1 ¾" and weighs three pounds. Spiritiles easily wall hang or stand alone. These wonderful artworks will never fade or tarnish.
Free shipping will be applied at checkout! (US addresses only) We typically ship with USPS. If you cannot receive USPS shipments, please note that in the special instructions box.