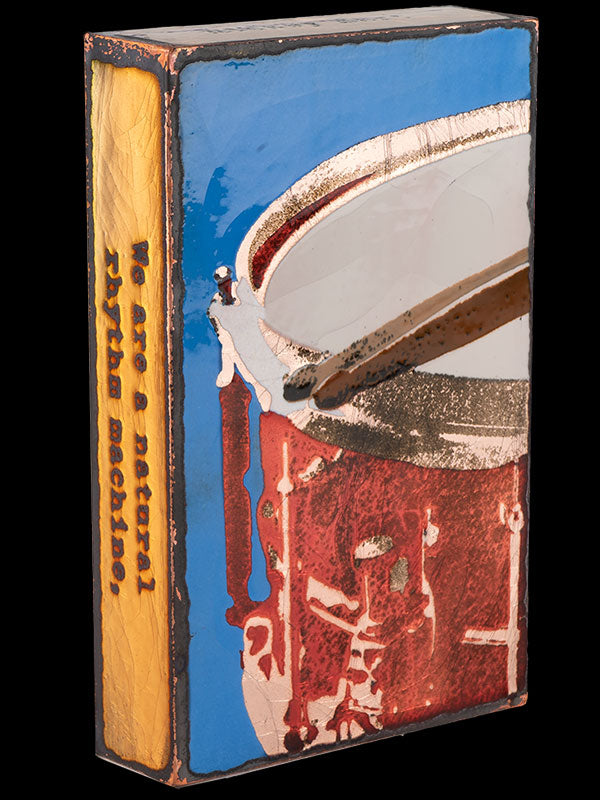 245 - Our Beat
$295.00
Quote on Spiritile: "We are a natural rhythm machine, we resonate with life beating through our hearts." - Mickey Hart
Spiritiles are molten glass on copper art collectibles that capture the spirit of the enlightened moment. Handcrafted in the U.S.A., Spiritiles bring luminous imagery to life and share timeless ideas on their golden sides.

The story behind this tile:
"As a drummer for the Grateful Dead, Mickey Hart was intimately familiar with the natural rhythm that lives within the heart of a musician, and more importantly the rhythm that exists between a band and its community. We experience this microcosm of energy created individually and communally at a live concert when a band is in sync with each other and with the audience. It is representative of who we are - unique individuals journeying through life at our own pace, while drawing together as creative people desiring to experience life as one.." - Houston Llew
Each Spiritile measures 5 ¼" x 8 ½" x 1 ¾" and weighs three pounds. Spiritiles easily wall hang or stand alone. These wonderful artworks will never fade or tarnish.
Free shipping will be applied at checkout! (US addresses only) We typically ship with USPS. If you cannot receive USPS shipments, please note that in the special instructions box.