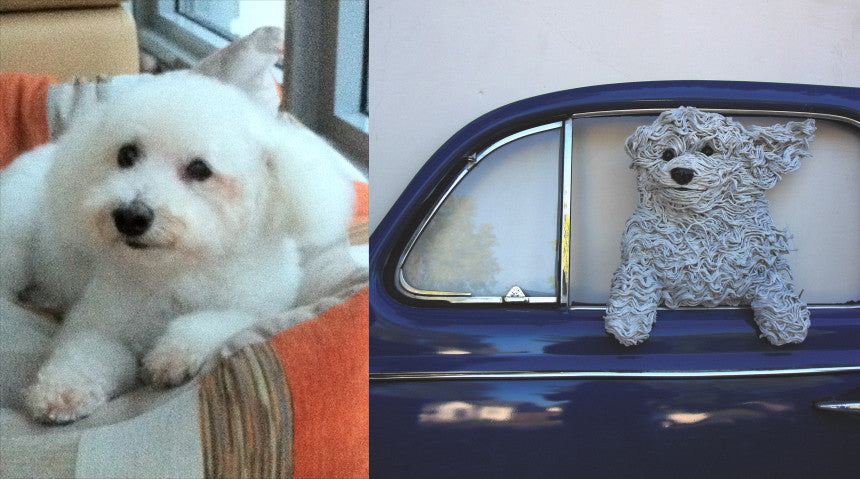 Commission of Your Dog in a Door
Please Call for Pricing
DD LaRue will create a custom piece of your pup(s) or cat(s) in a VW Bug Door! Mirrors, tennis balls, collars, custom colors, specific door orientation and more can be included in your sculpture. They do add an additional cost (typically between $100 to $300 depending on complexity). We will let you know which additions will add cost and what that amount will be. We require a deposit of half the final total as a deposit. You will get to approve the final piece before we charge you the balance and shipping or tax. 
A few things to be consider if you wish to commission a sculpture of your dog(s) or cat(s):
1. These are one-of-a-kind originals. Prices will vary due to the many different sizes, poses, hair treatment, props or additions, and other factors that may require extra time. Since it is difficult to know the exact price ahead of time, a price range will be given. The final price will fall within that range; if not, you will be contacted prior to completion. A deposit of half the estimated range is accepted as an initial payment.
2. SEND GOOD PICTURES! The artist can only capture what the pictures show. Front and side views to show all angles and markings are very helpful – otherwise the artist will have to guess! Make certain the colorings of the animals in the photos are consistent. Different light conditions and cameras can make significant differences in how the color of your furry friend appears. The color shown in the photos will be the color in the sculpture. 
Email pictures to fineart@artonawhim.com.
3. Art is not an exact science; while there is a high degree of accuracy in capturing the essence and look of the animal, these are portraits meant to capture an impression and are not intended to have a look of exact duplication.
4. Time frame runs 9-12 months on average but with the level of demand for DD's work sculptures can take up to a year to complete. The time frame will depend on the complexity of the piece and how busy the artist is at the time. Special orders for special deadlines (birthdays, holidays, etc.) will be accommodated whenever possible. We will clearly communicate the time frame for your sculpture. 
5. We prefer to crate and freight ship DD's completed work. This is the safest shipping method. We are happy to install DD's sculptures for you if you live close enough to our galleries!