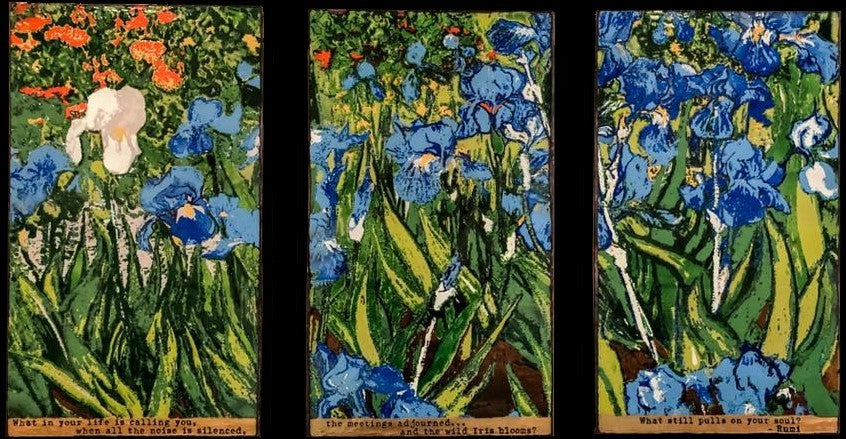 Reflections
$3,000.00
Quote on Spiritile: "What in your life is calling you, when all the noise is silenced, the meetings adjourned...and the wild iris blooms? What still pulls on your soul? ~ Rumi
This piece had been in the creation process for months. Finding the perfect quote that both provides testament to where our world is at now and works seamlessly with the stunning imagery was paramount. The piece is inspired by the collection of approximately 130 Iris paintings Vincent Van Gogh created during his time at the Saint Paul-de-Mausole asylum in Saint-Remy, France. The flowers in the garden were a welcome respite for the great artist. Today, they serve as a reawakening and a beautiful homage to the hope summer brings through the skilled hands of Houston Llew. 
This piece measures 24" tall by 42" wide. Each panel measures 24" tall by 14" wide. The quote continues across the front of all three panels, rather than on the sides. The mounting for the piece was hand-built by Houston Llew and gives it an extra presence on the wall, making it look like it is floating beautifully. 
This will be an extremely limited-edition piece, with each rendering an original work of art.