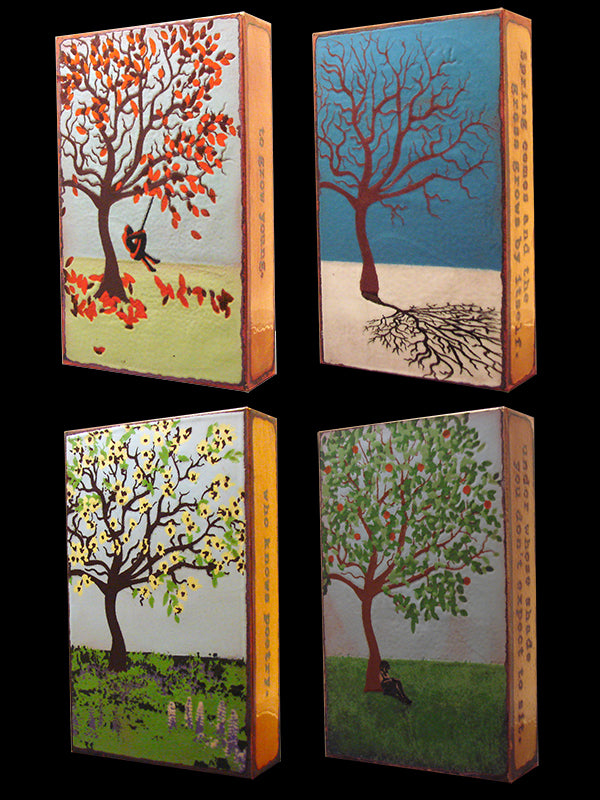 Tree Series - 037, 043, 059 & 068
$1,600.00
These Spiritiles depict the same tree in all four seasons and they look phenomenal together. The quotes are spot on too.
Top Left: 037 - Play Date - "It takes a long time to grow young." ~ Pablo Picasso
Top Right: 043 - Recess - "Sit quietly, doing nothing. Spring comes and the grass grows by itself." ~Zen Proverb 
Bottom Left: 059 - Spring Break - "The earth is like a child who knows poetry." ~ Rainer Maria Rilke 
Bottom Right: 068 - Summer Vacation - "The true meaning of life is to plant a tree under whose shade you do not expect to sit." ~ Nelson Henderson
We are only selling these pieces as a set of four, as we believe they should continue to live together. Individually they are valued at $2,075 in all. However, since we will not break them up and we would love to see them in a new home as soon as possible, we are pricing them at $1,600 total, plus tax or shipping.
Spiritiles are molten glass on copper art collectibles that capture the spirit of the enlightened moment. Handcrafted in the U.S.A., Spiritiles bring luminous imagery to life and share timeless ideas on their golden sides.
Each Spiritile measures 5 ¼" x 8 ½" x 1 ¾" and weighs three pounds. Spiritiles easily wall hang or stand alone. These wonderful artworks will never fade or tarnish and may be enjoyed in sunny or humid spots where other art may not endure.