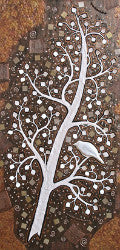 Whistling in the Dark
$3,000.00
This piece measures 48" tall by 24" wide. It was created with a combination of:
Acrylic Paints, Rice Paper, Polymer Clay, Mylar, Freshwater Pearls, Swarovski (Austrian) Crystals, Beads, Glass and Hand Embossed Metal.
The piece is on canvas and is backlit with LED lights, creating an entirely different effect when the space in which the painting hangs is dark. The piece comes with a remote so it can be easily turned on or off, even from a different room. Lee's combination of materials and incredible innovation makes every one-of-a-kind piece a stunning statement!